At Urban Farmer, we focus on the fresh.
We set out with one goal in mind: to make frozen pizza taste great. We did it by focusing on real ingredients. Our pizza crusts are made without artificial preservatives, colors, additives, or high fructose corn syrup. The key to our great taste is simple and well-balanced ingredients. This allows our gluten-free, multi-grain and vegetable-infused crusts to perform like a "regular" crust—with a perfect crunch.
Who knew veggie-crust pizzas could be this good? Well, we did.
We've been making vegetable-infused gluten-free crusts and pizza for years. By infusing vegetables into the crust as the primary ingredient, we not only make each pizza perfectly seasoned and brimming with taste, but we also create light airy crusts that are actually good for you.
We specialize in high-quality products made from real ingredients
Our flexibility in size, shape and type enable our customers to provide a range of products that appeal to the convenience needs of their better-for-you consumer looking to prepare a healthier meal at home.

Pizza Crusts
Gluten-free crusts made with real veggies like cauliflower, broccoli, carrots and sweet potatoes

Topped Pizza
Classic or new combinations, exact National Brand Equivalents (NBE), or Better Than NBE, including innovation for leading brands.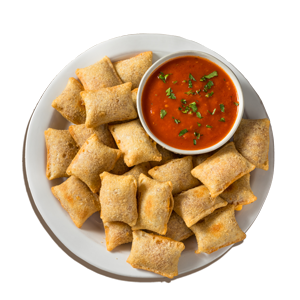 Snack Bites
Seasoned or filled hand-held shapes that cater to appetizers and snacks